Play it again... "Modernizing" Auditor Independence, Part 4
It's déjà vu all over again. More potential violations, more SEC custom-made rule changes to avoid having to prosecute them.
Thanks, everyone, for the phenomenal response to this auditor independence series.
You are gobbling it up, as evidenced by the real-time questions and follow-up, as well as links in other media.
One reader asked on Twitter:

Well, it wasn't a given that PwC, for example would fire Brandon Sprankle or Joshua Abrahams. That usually doesn't happen.
In fact, the WSJ headline for the story about the SEC's PwC auditor independence enforcement order says Sprankle would get to stay.
PwC to Pay $8 Million to Settle SEC Charges Over Auditor Independence and Improper Conduct

The U.S. regulator also charged partner Brandon Sprankle, who will remain with the firm
Joshua Abrahams was still at PwC when the WSJ wrote up a whistleblower's allegations of PwC complicity in the Mattel scandal. But by November 6, once the WSJ story hit, he was no longer listed in the LA office's phone directory.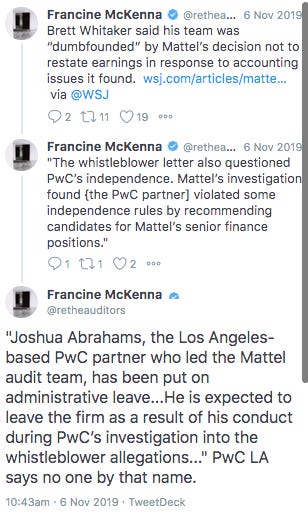 These two recent cases, both at PwC, are similar to another recent one, also PwC, against partner Adrian Beamish. Beamish engaged in improper professional conduct, according to an SEC enforcement order, during his role as lead engagement partner on the audits of Burrill Life Sciences Capital Fund III, LP's 2009, 2010, 2011, and 2012 year-end financial statements.
Beamish was subject to only a one year suspension but is not, at this time, seeking to appear or practice before the SEC as a preparer or reviewer, or a person responsible for the preparation or review, of any public company's financial statements that are filed with the SEC. Beamish is still currently subject to probation under the California State Board of Accountancy. Failure to abide by the terms of his probation could result in the suspension of Beamish's CPA license.
When I checked on September 24 a PwC spokeswoman said Beamish remained employed at PwC as a partner but would not say what role he now plays in the firm. His LinkedIn profile shows him to be still with the firm.
What usually happens is the Big 4 audit firms put a partner that's under scrutiny or suspension on ice, tucked away in an administrative or marketing role or, even, in the National Office.
The Public Company Accounting Oversight Board censured Deloitte & Touche LLP yesterday and imposed a $2 million civil penalty against the firm for violating the Sarbanes-Oxley Act and PCAOB rules when it permitted Christopher E. Anderson, a former partner, to perform or continue to perform activities as an "associated person" that were prohibited while he was subject to a PCAOB suspension order.

Anderson was the partner on Deloitte's Navistar audit engagement, based in the Chicago office. Anderson was the first individual fined or suspended by the Public Company Accounting Oversight Board, barred for a year and fined $25,000 in October 2008 because he "violated PCAOB standards" by agreeing "without a reasonable basis" to accounting decisions by Navistar Financial Corp in 2003 that led to restatements, SEC investigations, delisting and numerous lawsuits including by Navistar against Deloitte.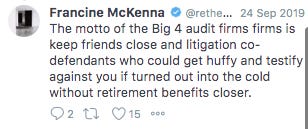 In today's news…
A whistleblower, Mauro Botta, is suing PwC for retaliatory termination. Botta has identified several potential independence violations in his whistleblower tip filed with the SEC that he says led to his firing.
Botta was concerned about his negative experiences with several PwC San Jose office audit clients. The SEC opened an investigation of his allegations and alerted PwC by letter dated April 28, 2017. The SEC then informed PwC that its investigation specifically related to two audits the firm conducted in 2013 and 2014.
Botta's private lawsuit alleges that PwC wrongfully terminated him in retaliation for his whistleblower complaint. 
Botta's allegations have been written about extensively and I summarized those articles here.
Botta's allegations also include several examples of potential independence violations. He alleges PwC frequently does clients' accounting work for them and hides or fixes problems they encounter rather than escalating them or forcing disclosures to investors.
For example, to compensate for pre-IPO and newly public companies' accounting weaknesses, PwC, he says, auditors played the role of consultants and advisors to management. That's not allowed by the Sarbanes-Oxley Act.
Botta wrote that at one PwC training session a PwC sector leader said, "We know that factually we have to manufacture most of the documentation because client [sic] don't have it or don't know how to do it or don't want to spend the money to do it."
Botta's case is ongoing but, to date, the SEC and PCAOB have brought no enforcement actions against PwC based on his allegations. Instead, in February 2018, an SEC official called Botta's attorney and said it would not be pursuing an enforcement action against PwC.
Botta told me he has never personally received written confirmation that the SEC closed its investigation of his allegations.  He did subsequently get a call from the PCAOB about the allegations after an article about them was published by David Hilzenrath at the Project on Government Oversight. Botta believes that inquiry is still ongoing.
Botta's concerns about auditors not keeping enough distance from pre-IPO and new public companies in Silicon Valley clients, and maintaining what's called "objectivity" and "professional skepticism" in the auditing standards, is exactly what another of the SEC's new auditor independence proposals seeks to address.
But instead of clarifying or strengthening expectations on behalf of investors, Jay Clayton's SEC proposes. "Let's just fuggedaboutit!"
The SEC proposed to amend the definition of the audit and professional engagement period, specifically Rule 2-01(f)(5)(iii), that is to shorten the look-back period when assessing compliance with the independence requirements for domestic first-time filers. That means companies that seek to IPO.
Instead of fixing a rule inconsistency by lengthening the requirements for foreign private issuers— FPIs only have to look-back to the "first day of the last fiscal year before the foreign private issuer first filed, or was required to file, a registration statement…" — the SEC proposes to shorten the domestic issuers look-back period.
What does that mean?
As noted in Part 3, the SEC cites "several commenters" more than once in its justification for the amendments to auditor independence rules it proposed on Dec 30.
In this example, the SEC suggests that "shortening the look-back period [by redefining "audit and professional engagement period") may encourage capital formation for domestic issuers contemplating an IPO, that is for those issuers that otherwise, if they followed existing rules, may have to delay an IPO because their auditor is not independent. The change would "at least put them on the same footing as FPIs," the SEC adds, disingenuously.
Who are these commenters that want this change?
Not investors dying to have the auditors do more conflicted work for pre-IPO companies but, again, the AICPA and its lobbying organization the Center for Audit Quality, from PwC, from a next-tier audit firm, BDO USA, LLP, and from the trade association for the private equity business, the American Investment Council.
SEC staff said it had observed, from its independence consultation experience related to potential filings of S-1s, "that often one factor, among many, in the auditor's objectivity and impartiality analysis is how far back in time the prohibited service or relationship ended."
Its proposal says that if a prohibited service ended in the early years of the financial statements included in the initial registration statement, "the staff may be able to come to the conclusion that the auditor is objective and impartial under Rule 2-01 at the time the IPO is consummated."
Oh sure!
This proposed rule change allows firms like PwC and EY, the ones most active in the pre-IPO space, to do everything for a pre-IPO company — help hire finance, tax and accounting professionals including placing audit firm alumni in those spots, implement financial reporting and internal control compliance systems, develop and decide on appropriate accounting treatment for "innovative" and "disruptive " business models, write accounting policies and procedures, and in some cases run the accounting, tax, payroll, and finance function until up to the very last minute before an IPO.
Recall what SEC Commissioner Hester Peirce (who SEC Chairman Jay Clayton recently appointed as official liaison with the audit regulator, the PCAOB) said about auditors and pre-IPO companies at the 2019 CARE Conference on May 17:
"Investors are pretty frustrated, investors in these small biotech companies that are pre-revenue. They're not really excited when there's a money raise and they're told 'your money will be going to pay for the auditor.' I am sorry for all of you in the rom that might like this. This is not what those investors want their money to be going for."
In other words, even though the SEC sanctioned RSM for these same illegal, conflicted activities, it doesn't want to have to fine and sanction Big 4 auditors of multiple pre-IPO companies and big companies like Mattel, and the companies identified by Mauro Botta in his whistleblower filing, like PwC and EY, for the same things.
I wrote about the SEC's reluctance to acknowledge the phenomenon of auditors doing everything for years for pre-PO companies back in 2012 for Forbes magazine, "How Zynga, Facebook and Groupon's Go-To Auditor Rewrites Accounting Rules."
[Ernst & Young's] Strategic Growth Markets consulting unit helps companies develop their financial systems, controls and accounting policies well before they are ready to come public. Which is potentially problematic. A firm that consults on byzantine accounting rules for unusual revenue streams and also offers "independent" auditing services for the same companies?
In July of 2018 I reported at MarketWatch.com that PwC was a registered tax lobbyist for a coalition of some of the largest multinationals, including a large number of its audit clients. PwC earned $10.74 million from 2013 to July of 2018, according to the Senate's lobbying disclosure database, as the exclusive registered lobbyist for the Alliance for Competitive Taxation, on a single issue: tax reform.
Recently The New York Times also elaborated on PwC's lobbying for multinationals and banks on tax reform.
"Other companies, like General Electric, were surprised to be hit by the new tax, thinking it applied only to foreign multinationals, according to Pat Brown, who had been G.E.'s top tax expert.

Mr. Brown, now the head of international tax policy at the accounting and consulting firm PwC, said on a podcast this year that the Trump administration should bridge the gap between expectations about the tax law and how it was playing out in reality. He lobbied the Treasury on behalf of G.E."

"Chip Harter was the Treasury official in charge of writing the rules for the BEAT and GILTI. He had spent decades at PwC and the law firm Baker McKenzie, counseling companies on the same sorts of tax-avoidance arrangements that the new law was supposed to discourage."

"The Organization for International Investment — a powerful trade group for foreign multinationals like the Swiss food company Nestlé and the Dutch chemical maker LyondellBasell — objected to a Treasury proposal that would have prevented companies from using a complex currency-accounting maneuver to avoid the BEAT.

The group's lobbyists were from PwC and Baker McKenzie, Mr. Harter's former firms, according to public lobbying disclosures. One of them, Pam Olson, was the top Treasury tax official in the George W. Bush administration. (Mr. Morgenstern, the Treasury spokesman, said Mr. Harter didn't meet with PwC while the rules were being written.)"
I counted 7, or 50%, of the 14 member companies of the Organization for International Investment whose names begin with "A," who paid for PwC's tax lobbying and are also PwC audit clients. And that's just the ones beginning with an "A"…
The PCAOB, through staff guidance required to be approved by the SEC, has also started relaxing the auditor independence rules. 
Guidance on PCAOB Rule 3526, Communication with Audit Committees Concerning Independence, issued in May 2019 by the new PCAOB board in place since the KPMG/PCAOB scandal, "permits an auditor to violate the auditor independence rules, then the auditor can conclude they are objective not withstanding what the rules say, and they can say in their audit report that they remain independent," according to Lynn Turner, former SEC Chief Accountant and a principal author of the 2000 SEC auditor independence rules.
A recent case shows exactly how this guidance gives regulators an out and, this time, PwC a pass. There has been no enforcement yet for an obvious auditor independence violation.
Sarbanes-Oxley Section 201, says an auditor will not be considered independent if they provide consulting related to resources or management functions.  The SEC's Independence rules include this prohibition. 
That doesn't stop the firms from strategically placing their alumni in key positions in clients and potential clients. 
PwC and its partner Joshua Abrahams, did just that at Mattel, and potentially another PwC audit client. The PCAOB's new guidance permits PwC to conclude that the firm is still independent as long as the client's audit committee agrees.
On October 29, Mattel, Inc. announced that its Audit Committee of its Board of Directors completed an independent investigation into allegations contained in a whistleblower letter it disclosed on August 8, 2019. The whistleblower's letter, which the company sent to Mattel's outside auditors, questioned the independence of PwC, Mattel's external auditor, and also suggested there may be accounting errors in historical periods.
The Mattel Audit Committee's investigation did find errors in publicly-filed Mattel financial statements for the last two quarters of 2017, and failures by executives to properly consider and disclose such errors to the then-Chief Executive Officer and the Audit Committee once they became known.
Mattel's filing also said that management had relied on the accounting advice sought and received from the lead audit engagement partner of Mattel's outside auditor.
As a result, Mattel determined that there were material weaknesses in its internal control over financial reporting at the time of the preparation of its financial statements for the quarters ending on September 30, 2017 and December 31, 2017.
Mattel amended its 2018 Annual Report on Form 10-K to restate its financial results for the third and fourth quarters of 2017 and certain related information and to identify material weaknesses in its internal control over financial reporting for the third and fourth quarters of 2017.
Mattel hired a new Controller and a new Senior Vice President of Tax, and outsourced its internal audit function to another Big 4 firm. Mattel is also conducting a search for a new CFO.
Tucked in the 8-K was another revelation that didn't get much attention. The Audit Committee also found violations of auditor independence rules.
"The Audit Committee's investigation and a separate investigation by Mattel's outside auditor concluded that certain actions in specific HR-related activities by the lead audit partner of Mattel's outside auditor, namely providing recommendations on candidates for Mattel's senior finance positions, was in violation of the SEC's auditor independence rules. He also provided feedback on senior finance employees. "
PwC replaced its lead audit engagement partner, Joshua Abrahams, and, according to the filing, "certain other members of its audit team for its audit engagement with Mattel."
A later article in the Wall Street Journal places equal blame for Mattel's restatement on PwC. The WSJ quotes Brett Whitaker, Mattel's director of tax reporting at that time, saying that Mattel's finance team discussed fixing the problem and restating earnings when an accounting problem tied to Mattel's ownership of Thomas & Friends, an animated children's show about talking trains was identified.
Instead, senior finance executives and Mattel's auditor, PwC, led by audit partner Joshua Abrahams allegedly decided to change the accounting treatment of the Thomas asset, Whitaker told the WSJ. The decision…
"…effectively [buried] the problem, according to Mr. Whitaker and documents reviewed by The Wall Street Journal. The executives agreed not to tell Mattel's then-chief executive or its board of directors, an internal investigation found."
The company's admitted in the filing it had made the error based on advice from PwC partner Abrahams and other PwC team members and Whitaker said based on evidence he presented to the WSJ that was also available to the company's investigation. Despite the independence conflict and apparent joint attempt at a cover-up of the error, Mattel's Audit Committee and PwC, Mattel's outside auditor, separately determined that PwC "remains capable of exercising objective and impartial judgment on all issues," according to Mattel's filing.
 The Audit Committee also determined that PwC should remain as Mattel's "independent" registered public accounting firm.
A Bloomberg article about the WSJ's Whitaker-Mattel scoop quoted a PwC spokeswoman, Megan DiSciullo on the revelations: 
"We will always strive to do the right thing and we will continue to take the appropriate actions in response to any allegations of misconduct."

The firm "takes its role as an independent auditor seriously," she added.
DiSciullo also told Bloomberg that once PwC became aware of the complaint, it "took immediate action."
DiSciullo told Bloomberg PwC reviewed nearly 45,000 documents and 30 interviews and worked with the company to help with its reporting of the investigation's results.
That, too, is highly problematic from an auditor independence perspective. The "independent" auditor should only be advised of the progress and results of an independent investigation that includes potential wrongdoing by senior executives and, in this case, the audit firm itself. The auditor is supposed to only consider the impact of the investigation on its audit, not actively participate in conducting the investigation.
Making the mistake of "helping" the client cost Ernst & Young $99 million the bankruptcy of its long-time audit client Lehman Brothers.
The auditor's active participation in an internal client investigation that includes investigating the auditor's own actions seems to me to be a huge conflict of interest and to irreparably taint Mattel's decision to retain PwC as its auditor.
What's interesting is that may not be the only time Joshua Abrahams played matchmaker between a PwC audit client and executives looking for work.
Abrahams was the lead engagement partner for three PwC audits on the west coast — Mattel, and also Herbalife and Sprouts Farmers Market.
Another recent story in the WSJ about another PwC audit client in accounting trouble, Under Armour, mentions that a criminal investigation of the company's accounting is also focusing on one of its former CFOs, Chip Molloy.
"Among the issues investigators are examining, according to people familiar with the matter, are Under Armour's results at the end of 2016 and the tenure of former finance chief Chip Molloy, who resigned in January 2017 on the same day the company said sales growth fell below 20%. Under Armour shares tumbled 23% that day."
In June of 2019 Sprouts appointed Chip Molloy—the guy who only worked at PwC audit client Under Armour a year and left suddenly— to serve as interim CFO until a permanent successor is named. Molloy had been serving as a member of Sprout's board of directors since 2013 and was the Audit Committee Chair.
Molloy was the guy who was responsible for hiring and retaining PwC and Abrahams every year as auditor, and is now one of the guys, with the CEO, who signs the Sarbanes-Oxley 302 internal control and disclosure certifications.
Molloy previously served as interim chief executive officer of another PwC audit client, Torrid LLC, during 2018.
In addition to Molloy's one-year tenure as CFO of PwC audit client Under Armour from 2016 to 2017, Molloy was also CFO of Deloitte audit client PetSmart from 2007 to 2013.
When asked about a relationship between Abrahams and Molloy and whether Abrahams recommended Molloy for jobs at Under Armour or Torrid that gave Molloy authority over PwC's audit contracts, PwC spokeswoman Megan DiScullio said I was "connecting dots where there was no connection."
Chip Molloy did not respond to two phone messages left at Sprouts requesting comment. Abrahams didn't respond to email messages to him and his wife seeking comment.
Abrahams' LinkedIn profile indicates he left PwC sometime in 2019.
Finally, Abrahams took on the Herbalife audit after a "human resources or management functions" auditor independence issue caused a slight hiccup in the sudden necessary transition of the account from KPMG to PwC in 2013 after KPMG's independence because the lead partner, who was the firm's west coast regional partner, had been charged with insider trading.
I wrote in Forbes at the time:
Herbalife, unwitting victim of KPMG partner Scott London's inside trader scheme, replaced its former auditor yesterday with PwC… There were, supposedly, too few qualified audit firms to choose from for such a large, global, "specialized" company like Herbalife.

Herbalife's choice of PwC came with extensive disclosures of PwC's past consulting and other non-audit work for Herbalife all over the world, including during the periods that must now be re-audited, 2010-2011.  The Sarbanes-Oxley Act of 2002 and pre-existing SEC rules prohibit the auditor from also performing certain kinds of engagements that may impair the auditor's independence, in fact or in appearance. Investor perception is supposed to be as important as specific rule breaking.
Replacing an auditor after its partner commits insider trading or otherwise impairs his and the firm's independence, is not always assured.
In the Tom Flanagan insider trading case, Flanagan's and Deloitte's audit clients – Walgreens, Best Buy, Sears Holdings and others – found out he was trading on their info from the SEC (who found out from FINRA) and then the SEC and the clients called Deloitte. Deloitte had no choice but to force Flanagan to "retire," but then the firm sued him to assuage the clients.  Deloitte's claim against Flanagan cited potential costs in reimbursing clients for independence investigations.
Deloitte reimbursed some clients for their internal investigations: $456 thousand to Sears, $79 thousand to Best Buy, for example. Deloitte's audit clients made the quick, universal decision that their auditor was still independent.  Otherwise they would have experienced the ignominy of admitting that prior-filed financial statements were audited by a firm that was not independent and would have been vulnerable to lawsuits, would have had to change auditors in a hurry – a messy and expensive proposition for a large public company, and pay for new audits for the affected years like Herbalife.
There are disclosures in almost all the proxies.  They look like they were all written by the same lawyer.
Excessive concentration, the "too few to fail" problem, is also one of the justifications the SEC uses for another proposed change to the auditor independence rules. Large multinationals have limited choice of audit firms and their choice become even more limited still when they rely on one or more Big 4 firms for non-audit services.
There's an SEC proposal to take care of that problem, too, with another "let's give everyone a pass" approach.
In this case the SEC is proposing to "replace the outdated transition and grandfathering provision in Rule 2-01(e) with a new Rule 2-01(e) to introduce a transition framework to address inadvertent independence violations that only arise as a result of merger and acquisition transactions."
In other words, the SEC wants to give companies and their auditors plenty of time to "cure" independence issues that arise out of a merger or acquisition situation, so that investor protection doesn't stand in the way of capital formation.
"The concentration problem is the one the SEC should be looking to solve, by breaking up the Big 4 accounting firms if that's what it takes," says Roper.
Although not exactly an M&A issue, Herbalife, disclosed a long list of independence conflicts in its 8-K when PwC was called on to take over the client from KPMG in 2013 and was forced to re-audit 2010-2011. The violations are dismissed by the company, decisively in their mind, based on a lack of materiality, and the SEC did not object.
None of the major media reports of the hiring of PwC by Herbalife mentioned the PwC independence issues in any detail or told us how the company resolved them.
An activist investor did take exception to the PwC independence issues, citing my Forbes article, but the SEC didn't act and PwC, and Joshua Abrahams until recently, still audit Herbalife.
The SEC's latest proposal now codifies an M&A exception by "proposing to amend Rule 2-01(f)(4)(i) to include a materiality requirement with respect to operating companies under common control. With respect to the application of the affiliate of the audit client definition to operating companies, including portfolio companies, we propose amending Rule 2-01(f)(4)(i) to focus the independence analysis [only] on sister entities that are material to the controlling entity."
Barbara Roper told me:
"Enforcement of all auditor independence rules, including SOx rules, has been inconsistent and weak since 2002."
But why?
"Regulators say they can't run the risk of putting another big firm like Arthur Andersen out of business," Roper says. 

"But by being unwilling to hold the firms fully accountable for repeatedly defying the law and compromising the integrity of audits, regulators like Chairman Clayton and his predecessors, send the message the Big 4 firms can operate with impunity.

They are not just too big to fail, they are truly too few to call to account." 
This is the last of my series on "modernizing" auditor independence. If you learned something that's actionable for your investing or professional life won't you make a paid subscription?