WeWork: Auditor EY didn't warn about the risks
Are EY's IPO clients "special" or is a lack of ICFR warnings a key risk indicator?
Why is it that Ernst & Young LLP's IPO clients appear to be like the citizens of Lake Wobegon — stronger, better-looking, and above average?
None of its 2019 IPO clients, including WeWork, disclosed material weaknesses in internal controls over financial reporting in their S-1s, according to my reporting on September 4.
However, more than 20% of the audit clients of all the other Big 4 firms — Deloitte, KPMG and PwC—include management disclosures of ICFR weaknesses in their S-1s.  
EY's audit clients also have a lower percentage of going concern opinions than average, according to recent research.
Much has been written about WeWork's canceled IPO.
Here's how Professor John C. Coffee, Jr., the Adolf A. Berle Professor of Law at Columbia University Law School and Director of its Center on Corporate Governance summed it up:
Clearly, this failure was overdetermined, as many competing causes can explain it, including: (1) the extraordinary level of self-dealing that its CEO, Adam Neumann, regularly engaged in; (2) the corporate governance structure that locked up all voting power and control in him; (3) a system of non-GAAP metrics that more than raised eyebrows; (4) an extraordinarily high valuation for a company that, despite its claims of being a high-tech start-up, was closer to a simple real estate firm; and (5) the unstable personality of its founder (who, on a continuum from Elon Musk (brilliant but reckless) to Martin Shkreli (a felon with pretensions), seems closer to the latter end).
WeWork's first S-1 was filed on August 14, and then two amended S-1s were filed on September 4th and 13th. It was the one made public on September 4th that I wrote about, with my former MarketWatch colleague Ciara Linnane.
Once they read about them in the S-1, just about everyone but EY, and the SEC, was concerned about all the related-party transactions and conflicts of interest WeWork's CEO Adam Neuman had with the company.
We wrote about that:
It has some possible conflicts of interest

WeWork admits that it has engaged in several transactions with related parties that could present possible conflicts of interest that its board, in particular its audit committee, and its auditor Ernst & Young LLP, will have to keep a close eye on.

That may be challenging since WeWork leases several properties where its board chairman and CEO, Adam Neumann, has or had a significant ownership interest. WeWork has also entered into leases where other members of its board of directors have a significant ownership interest.
Once everyone else not EY and the SEC read about them in the S-1, the company's "Adam Neumann problems" forced the company to ask the SEC to withdraw its registration statement on September 30.
The letter said that, effective immediately, it "no longer wishes to conduct a public offering of securities at this time."
On October 22 that decision led it to fire CEO Neumann and accept a financial rescue package from major investor Softbank.
Japanese tech conglomerate SoftBank will take a controlling stake in the company under the deal to infuse WeWork with more than $5 billion in urgently needed capital, along with a tender offer of up to $3 billion for existing shareholders, WeWork said in a statement, giving SoftBank control of about 80% of the company.
WeWork even admitted in its letter to the SEC that canceling the IPO was "consistent with the public interest and the protection of investors."
We wrote on September 4 that the company's business model was also a mess.
In some ways, WeWork is like a bank

WeWork operates much like a bank that's funding long-term, illiquid investments with overnight repos and checking account deposits. That's because WeWork says it currently leases a significant majority of its locations under long-term leases that, with very limited exceptions, do not contain early termination provisions.

The company's obligations to landlords under these agreements extend for periods that significantly exceed the length of its membership agreements with its members, it says, and those may be terminated by members upon as little notice as one calendar month.

If an economic downturn results in customers pulling out, WeWork will still have to pay for those leases. The liabilities will stay on its balance sheet, are not easily liquidated, use up cash and could drag on its financial metrics indefinitely.
Professor Coffee also described something else, a "ratchet" provision, that investors should have been protected from but was barely disclosed, certainly not in a way anyone but those in the know would have understood:
In particular, mutual funds seek two types of provisions; (1) redemption rights that allow them to escape (possibly if the IPO is delayed), and (2) a pricing "ratchet" that entitles them to additional shares in the event that the IPO prices below the valuation reflected in the final private-equity round. Such an outcome (a "down round" in the vocabulary) entitles the holders of this ratchet provision, depending upon the particular contractual provision, to additional shares that place them in the same (or nearly the same) economic position as if the IPO had priced at a level equal to the last private-equity round valuation.

In the case of WeWork's failed IPO, the principal holder of the ratchet provision was SoftBank, the Japanese investment bank whose billionaire founder, Masayoshi Son, had long been WeWork's principal backer. According to a computation by Renaissance Capital, LLC, which specializes in analyzing IPOs, the ratchet clause held by SoftBank would have entitled it to more than $400 million in additional shares if WeWork's IPO were to come in with less than a $14.5 billion valuation. If the IPO came in as low as $10.5 billion, the shares to which SoftBank (and certain other holders of similar ratchet clauses) would have been entitled jumped to slightly over $500 million. Today, WeWork is probably worth well less than $10 billion.
When WeWork requested the withdrawal of the S-1, the registration had not yet been "declared effective" by the SEC, and no securities had yet been issued or sold. That means any calls, meetings and correspondence and documentation of that back and forth between the company and the SEC would remain confidential and never be posted to the SEC's website EDGAR.
I asked SEC Chairman Clayton at a conference on October 23 what he might do differently to protect investors after the WeWork debacle, but he said that the SEC's Corporation Finance division had a "thorough process" that made sure "all the disclosures were there" before giving the company the IPO go-ahead.
I chided him that no one would ever know how hard the SEC had worked to protect investors since the comment letters between the two would now never become public. I suggested that maybe if WeWork filed for an IPO again, that the entire letter file from its road to an IPO should be posted.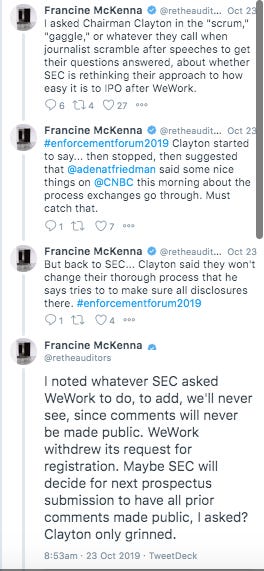 Two and on-half weeks later, on November 10, the Wall Street Journal published a story with the headline, "WeWork Was Wrestling With SEC Over Key Financial Metric Just Before It Scrapped IPO."
The article says that, "On Sept. 11 — after the initial public offering prospectus had been public for nearly a month, and after the SEC had already made dozens of demands about the document—the regulator sent the shared-workspace company a list of 13 still-unresolved concerns, according to previously unpublished correspondence reviewed by The Wall Street Journal."
I could not imagine anyone with more motivation to leak the letters to the Wall Street Journal than SEC Chairman Jay Clayton, and I tweeted that.
Broc Romanek, the editor at TheCorporateCounsel.net and a former member of the Office of Chief Counsel of the SEC's Division of Corporation Finance and former Counselor to an SEC Commissioner, agreed.
The WSJ article doesn't note how they obtained this "previously unpublished correspondence." So we have no idea how that happened.
Number 4 on Romanek's list of possibilities?
Someone at the SEC? The deal was such a turd burger & the prospectus so outrageous that perhaps the SEC wanted to have something in the public domain that could show it was doing its job. But I would fall off my chair if Corp Fin provided this file (given its policy of not posting comment letters until after a registration statement is declared effective) – unless it was told to do so by the SEC Chair, etc. But it is possible that someone high up wanted this stuff out there. Odds: 50 to 1.
The comment letters are still not available to the public via the SEC's Edgar site.
Given everything that was wrong about WeWork –its related-party transactions, upside-down business model, use of controversial non-GAAP metrics, undisclosed dilutive effects of a ratchet clause, and lack of a risk factor that said without an IPO it would need a bailout and significant cost cutting/layoffs in less than 30 days — you may wonder what its auditor Ernst & Young thought.
If any internal control issues come to its attention during its audit of the financial statements and preparation of its opinion, an auditor is required under AICPA accounting standards to prepare a SAS 115 letter addressed to company management.
"Deficiencies identified during the audit that upon evaluation are considered significant deficiencies or material weaknesses under this section should be communicated, in writing, to management and those charged with governance as a part of each audit, including significant deficiencies and material weaknesses that were communicated to management and those charged with governance in previous audits and have not yet been remediated."
"As an auditor I have to understand the business prospects of the entity when I audit its financial statements," said Nick Tsafos, a partner and the former chairman of the board of directors at EisnerAmper Global Ltd, a public accounting firm that specializes in auditing public and private companies.
"I've walked away from clients that don't want to implement the proper internal controls," Tsafos told me in an interview.
"But most, as they get closer to an IPO will hear from their lawyers that material weaknesses will have to be disclosed. While venture capitalists and private equity investors primarily focus on EBITDA and the valuation, corporate governance should also be at the top of the list.  Weak internal controls could really hurt a company when it is trying to go public and lead to a lower valuation," said Tsafos.
WeWork management did not cite any material weaknesses or significant deficiencies in internal controls over financial reporting and it is not clear if EY brought any weaknesses to their attention via a SAS 115 letter.
A story I wrote at MarketWatch in mid-September included my analysis showing even though EY had audited the largest number of IPOs of the Big 4 global audit firms YTD 2019, none of EY's IPO clients for YTD 2019 disclosed any material weaknesses or significant deficiencies in internal controls over financial reporting.
The average for all Big 4 audit clients was about 20%.
The auditor also has an obligation to review the company's status as a "going concern," that is, whether it has enough liquidity to meet its obligations for the next year.  In 2016 I wrote for MarketWatch that almost half of the auditors' warnings about near-term survival chances for public companies were made in IPO filings. That's despite the fact auditors have been issuing the lowest rate of going-concern warnings in fifteen years.
A going-concern warning —where auditors signal there is reasonable doubt the company can stick it out over the next year—also frequently leads to a bankruptcy filing.
Between the years 2000 to 2009, the percentage of companies filing for bankruptcy that had received a going-concern warning from auditors in the prior year ranged from 51% to 59%, according to research appearing in a professional journal specializing in auditing.
EY knows how to review for and issue going concern warnings. The firm issued warnings for 10 of the 31 audit clients, or 32%, that IPOd through September of 2019.
For example, EY client Applied Therapeutics filed for its IPO on April 19, 2019. EY's opinion contains a "going concern" warning.
Applied Therapeutics' management also included a risk factor related to the auditor's "going concern warning:
The report of our independent registered public accounting firm on our financial statements as of and for the year ended December 31, 2018 includes an explanatory paragraph indicating that there is substantial doubt about our ability to continue as a going concern. Since inception, we have experienced recurring operating losses and negative cash flows, and we expect to continue to generate operating losses and consume significant cash resources for the foreseeable future. Without additional financing, such as this offering, these conditions raise substantial doubt about our ability to continue as a going concern, meaning that we may be unable to continue operations for the foreseeable future or realize assets and discharge liabilities in the ordinary course of operations.
WeWork's management did not include a risk factor in its S-1 that said it would run out of money in a month if it did not IPO.  EY did not include a going concern warning in its opinion on the financial statements included in the S-1 and the SEC did not insist on a warning from either WeWork or the auditor.
EY gave no warnings to IPO clients about financial and disclosure controls weaknesses and fewer than average about going concern issues.  What's so special about EY's new public clients?
A spokesman for EY declined comment.  A spokeswoman for WeWork also declined comment.
One clue may be found in a story I wrote back in 2012 for Forbes magazine, "How Zynga, Facebook and Groupon's Go-To Auditor Rewrites Accounting Rules."
[Ernst & Young's] Strategic Growth Markets consulting unit helps companies develop their financial systems, controls and accounting policies well before they are ready to come public. Which is potentially problematic. A firm that consults on byzantine accounting rules for unusual revenue streams and also offers "independent" auditing services for the same companies?

The ghosts of Arthur Andersen and Enron shudder.

Sarbanes-Oxley, of course, was supposed to fix such conflicts. But just as it handcuffed the IPO market, Sarbox blew it here, too. While it wisely bans an accounting firm from simultaneously auditing a public company and selling it most consulting services—the toxic combo that torpedoed Arthur Andersen and thousands of Enron's innocent shareholders—it doesn't prevent an accounting firm from first consulting on technical and internal ­accounting issues for a startup and later, when that emerging company is getting ready to go public, segueing into a role as independent auditor, potentially auditing its own work.

So did E&Y consult for Facebook and Zynga before becoming their ­independent auditor? It won't say. Stephen Blowers, E&Y's Americas Vice Chair of Independence, does say that before an audit client goes ­public his team conducts an extensive review of all the work E&Y did for the company during the three years of audited statements in the IPO, as well as an extra year before that, to make sure it has complied with all the SEC's auditor-independence rules. "We are confident of our independence,'' he adds.
Here are the companies in the EY YTD 2019 IPO population. Analysis is mine, based on data collected from SEC filings by Audit Analytics.