Wirecard's Auditors Are Under Fire
Is EY Germany Helping To Audit Your Company?
This is a guest newsletter edition from Michael Rapoport, a business and financial journalist who specializes in stories about accounting, banking, and financial regulation. He is a former reporter for The Wall Street Journal. His work has appeared recently in Quartz and Business Insider. Michael is on Twitter as @rapoportmike.
By Michael Rapoport
German payments-processing company Wirecard has unraveled, and its auditors at EY's German firm face scrutiny about whether they fumbled their work and failed to catch and stop a major fraud. 
So if you're an investor, you likely won't be enthused to find out EY Germany worked on your company's audit.
But that's exactly what's happening at McDonald's, Expedia, Texas Instruments, Archer Daniels Midland, and other high-profile U.S. companies. And most of their shareholders don't have a clue about it.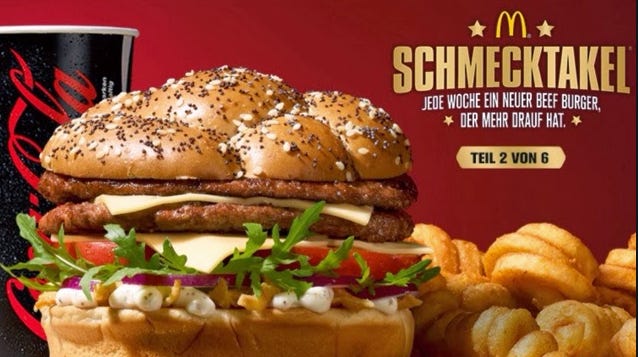 Photo via www.burgerlad.com
Ernst & Young GmbH, EY's German member firm - the firm that blessed Wirecard's financial statements for years before the company fessed up that billions of the cash it had claimed to hold probably didn't exist - helped out with the annual audits of at least 30 U.S. companies in the past year, according to regulatory filings.
That doesn't mean any of these companies necessarily have anything wrong with their accounting. But it does mean their numbers are being vetted in part by an auditor that faces serious questions about whether it's fallen down on the job. If any of these 30 companies did have something amiss, would EY Germany have been able to find it?
Generally, these companies are U.S.-based multinationals for which EY's U.S. firm serves as the primary auditor, with overall responsibility for checking the company's numbers and checking the work of its member firms that help out. But these multinationals have significant operations in Germany, so EY U.S. enlists its German sibling to help audit those businesses. (Each country's EY firm is legally separate, but they're all part of the same global network and work together often.)
On Expedia, for instance, EY Germany did 20-30% of the work on its most recent audit. That's likely related to the majority stake Expedia holds in Trivago, a German hotel-search company for which EY Germany serves as the primary auditor.
On Archer Daniels, which has more than $2 billion in yearly revenue in Germany, EY Germany did 10-20% of the audit work. McDonald's, which has nearly 1,500 restaurants in Germany, and Texas Instruments each had EY Germany do 5-10% of their audit work.
In a statement, EY said it had "a strong system of quality controls that enable each member firm to provide high-quality audits." EY's member firms have "a strong track record of working together and demonstrating a high level of audit quality. Expedia, Archer Daniels, McDonald's, and Texas Instruments didn't respond to requests for comment.
Regulators are investigating EY Germany's work for Wirecard, and German shareholders' group SdK has filed criminal complaints against EY auditors who worked on Wirecard's audits. The questions center on Wirecard's use of third-party partners - they were supposedly forwarding Wirecard a cut of the fees they collected, but Wirecard admitted in June that there's "a prevailing likelihood" that more than $2 billion of that cash simply doesn't exist.
EY Germany signed off on the accuracy of Wirecard's financial statements each year since 2009 before finally refusing to do so for the 2019 financial statements, after questions raised by short-sellers, journalists, and a separate, special audit by a different auditor grew too pressing to ignore. 
The EY auditors could have uncovered the fraud: According to the Financial Times, for more than three years they failed to do crucial checks to confirm Wirecard's claims of having large amounts of the cash in question on deposit at a Singapore bank.
The Wall Street Journal reported that EY did have questions as far back as 2016 about Wirecard's unusual arrangements of keeping cash in bank accounts it didn't control, though the firm nonetheless signed off on Wirecard's financial statements.
And EY Germany claims their client misled them along with everyone else. The firm said in a statement last week that "this was an elaborate and sophisticated fraud … with a deliberate aim of deception," and that "even the most robust audit procedures may not uncover this kind of fraud."
Maybe. But with such serious questions about whether EY Germany did a thorough, competent job in auditing Wirecard, it's only natural for investors to wonder about whether it's done a good job in its work for other companies.
EY Germany said in filings with the PCAOB in March that German audit and financial authorities had concluded a few different administrative or disciplinary proceedings against the firm or someone working for it. In one case, a settlement was reached with BaFin, the German financial regulator.
The firm didn't provide further details, and it isn't known whether those cases related in any way to EY's work for Wirecard or any of the U.S. companies. McDonald's, Expedia, Archer Daniels, and Texas Instruments haven't cited any accounting problems or weaknesses in internal controls tied to their German operations. (Archer Daniels did settle regulators' charges in 2013 that a German ADM subsidiary had participated in a scheme to bribe Ukrainian officials to secure tax refunds.)
To be sure, the kind of help on U.S. multinational audits that EY Germany provided to EY U.S. isn't unusual. It's been going on for years, though it's only been since 2017 that the firms have had to disclose it. It's previously been an issue with U.K. audit firms, after they came under fire after missing a slew of accounting scandals at companies like Carillion, and it turned out they were also helping with the audits of U.S. giants like Citigroup.
Chinese audit firms work on the audits of lots of U.S. multinationals, like Walmart and General Motors. That's important because the Chinese government refuses to allow U.S. regulators to inspect the work of those firms, so investors have no idea whether or not competent auditors have properly vetted the companies' China operations.
The U.S. firm that serves as a company's primary auditor is responsible for ensuring the quality of the audit work done by any of its affiliates who help out. But with each country's affiliate legally separate from each other, that can be a challenge, as the China experience suggests.
The information about which other audit firms are helping out a company's primary auditor is publicly available, but it isn't in the Securities and Exchange Commission filings that many investors look at. It's available only on special filings which accounting firms make with the PCAOB. Investors can look them up through the AuditorSearch database on the PCAOB's website.
They might want to do so for any companies whose shares they hold - lest the kind of unpleasant surprise that slammed Wirecard's shareholders hits them next.
© Francine McKenna, The Digging Company LLC, 2020